The Golden Globes are usually the fun red carpet, where stars take more risks than they would at the Oscars and mingle more freely with each other.
This year delivered a whole lot of hits and not too many misses, with honourable mentions going to Eva Green, Kate Bosworth, Zendaya, Olivia Wilde, Eddie Redmayne and Jennifer Lawrence.
However, a handful of television and film stars stood out for the right and wrong reasons.
• JLaw's scathing shut down of reporter at Globes
• 'Disgusting, sexual deviant scum': Gervais lets loose
• Gallery: the 2016 Golden Globes red carpet

In particular, Jurassic World star Bryce Dallas Howard won fans for her red carpet honesty – admitting she had bought her Jenny Packham gown herself at a department store because "I like having lots of options for a size six, as opposed to maybe one option".
Unlike many other stars who hit up celebrity stylists for their big night, Howard's honesty about her pre-show shopping jaunt was refreshing.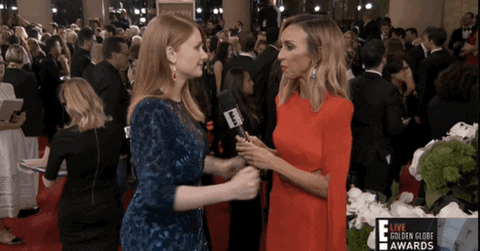 Here are the rest of the best – and worst – looks from the red carpet.
Best dressed
Alicia Vikander in Louis Vuitton: Fresh, modern and subtle, just like the star herself. There's something seriously appealing about classic details like frills and pleats – when used sparingly, of course.
Rosie Huntington-Whiteley in Atelier Versace: The model always looks gorgeous (it's her job) but for some reason the pure glamour of this gold gown takes the cake. Perhaps it's the loose waves, the bronzed skin or that brand new engagement ring on her finger (from longtime boyfriend Jason Statham) but Huntington-Whiteley looks like a million bucks and then some.
Lily James in Marchesa: The British actress found global fame in her starring role in the Cinderella remake, so it's only fitting she have a princess moment on the red carpet. James edged up this floaty frock with tousled hair and smoky eye makeup. Perfection.
Lady Gaga in custom Versace: Well, someone is having a Marilyn moment! The popstar looked like an old-school bombshell in this strikingly structural velvet gown, which fit her like a glove. Thank God she's ditched her meat dress days.
Jennifer Lopez in Giambattista Valli: Only Jennifer Lopez could rock a colour this unusual with such carefree abandon. Accessorising the statement look with sleek stilettos, a stunning diamond necklace and moody burgundy lips, Lopez looked like an unabashed movie star. Let's just forget about Gigli.
Worst dressed
Rachel McAdams in Lanvin: Flawless from the neck up. From the neck down? Grandma's drapes stapled together in a rush.
Wiz Khalifa in Thom Browne: While the rapper's loafers are on point, the rest of his look seems unkempt and poorly thought out. The pastel tie clashes with the heaviness of the suit, while Khalifa could have gotten away with the cropped pants or the undone shirt, but not both.
Natalie Dormer in J. Mendel: Margaery Tyrell, Dormer's Game of Thrones character, might have been able to rock this at King's Landing, but in Los Angeles this confusing dress seems out of place. Unflattering and uncomfortable-looking, we'd love to see Dormer without so much going on. She's gorgeous enough to not try so hard.
Jane Fonda in Yves Saint Laurent Couture: We've tried to like this. Really, we have. Everything is so right about it except for the explosion of ruffles at Fonda's neck. Those are unforgivable. She, however, is an ageless goddess.
– All images: Getty