Spring has sprung and the stores are filling up with new stock which is simultaneously thrilling and vexing.
I have the same problems with fashion year in, year out, and I predict a chorus of " I hear you sister" when you've read this piece, so bear with me as I vent my frustration.
• What does a smart casual dress code actually mean?
• The Hun: fashion's next big beauty trend
• Why everyone should dress like Ellen DeGeneres

Dress lengths
For those of us who are a little more mature, a little bit more solid, a little bit more conservative, or just don't like our knees, most of the dresses on offer are just too short. Fine if you have slim, endless legs or are 18 years old, but I see so many pretty dresses that are more the length of a tunic.
Short lengths on more mature women tend to infantilize us, and cause us to show off more flesh than we wish to when we sit down.
I am so tired of spying a beautiful dress in a store, with sleeves (yay) and then noting that the hemline sits mid thigh. I suspect it's because designers think that keeping lengths short makes their designs look more sexy and youthful, but they are losing a huge amount of money alienating women who don't want to look like mutton dressed as lamb, and who lost their knees somewhere around child number two.
We would like a really pretty, flattering summer dress that reaches just below the knee. Why is it so hard?
Sleeves
It may be dysmorphic but it's a fact – almost no woman likes her upper arms, whether she's a size 18 or an eight. (Okay, Michelle Obama does). We are horribly hard on ourselves about this particular area of the body for some reason, even when we are teenagers.
Even if you showed them for while, once they get anywhere near jiggly, I guarantee they will never be seen again. Yet there is a dearth of fashionable dress options that feature a sleeve.
The most common refrain is "yes buy that and wear it with a jacket or a light cardigan". But I don't want to wear a light cardigan. It's summer and I'm hot. I want a sleeve. Not too tight. Not too puffy. Just an elegant sleeve. Please.
Transparency
A girlfriend and I went shopping recently for summer weight dresses – she had moved to Darwin, I was heading for a holiday in 33 degree heat. At least half the dresses we reached for were too sheer.
"You could wear a slip under that," said the sales assistant cheerfully. But we don't want an extra layer. We would like a lovely dress that you can't see your undies through.
Ditto with pants and skirts. More designers should invest in linings. Or fabrics that the light won't shine through.
Cute overload
Frills, puff sleeves, trapeze shapes, sweetheart necklines are all lovely. Just not all at once, please. My friend Helen, who is around my age, found a pretty black broderie anglaise dress with puff sleeves and a sweetheart neckline which we thought she could probably get away with.
She went into the change room to try it on, while I waited to give my opinion (I always tell the truth. I am the person who says, "yes your bum does look big in that").
As she emerged, I could see that the top half was fine but, as per usual, the dress was just that little bit too short, resting a few centimetres too far above the knee. It had tipped into Whatever Happened to Baby Jane territory. Sale lost.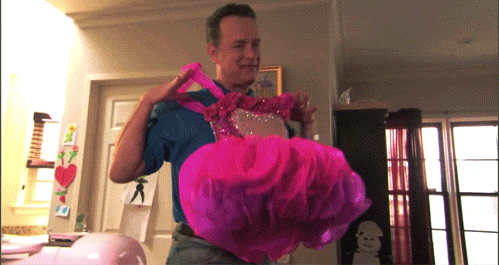 The 40-plus audience has enormous buying potential, and in many cases, designers are under delivering. Can't you just use a little more fabric?