One Nation leader Pauline Hanson has added her support to Donald Trump Jr's much-criticised disparaging remarks made toward London's mayor after Thursday's terror attack in the UK capital.
The US President's son came under fire for posting an article written last year, in which Mayor Sadiq Khan said terror vigilance had become "part and parcel" of life in a global city.
"You have to be kidding me?!" Mr Trump tweeted, sparking accusations that he was attempting to exploit the London tragedy for his political agenda.
Senator Hanson then took the issue a step further, not only echoing Mr Trump's sentiments, but saying that sending sympathies under the #PrayForLondon hashtag was futile.
She instead offered her own #Pray4MuslimBan alternative.
Some 40 people were injured and four were killed in the London attack, including the assailant who drove a car through pedestrians on Westminster Bridge before fatally stabbing a police officer who tried to stop him entering the Houses of Parliament.
The unnamed attacker was subsequently shot dead.
Just two hours later, Mr Trump tweeted the 2016 Independent newspaper article featuring Mr Khan.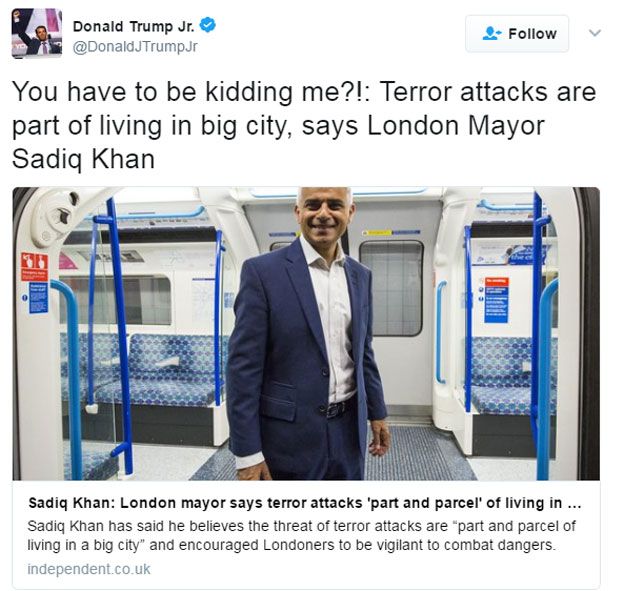 Despite Mr Trump's tweet meeting a furious response, Senator Hanson joined him in condemning Mr Khan, London's first Muslim mayor, and also took the opportunity to push One Nation's anti-immigration policies.
"It's amazing that the Muslim mayor over there has come out and said 'Oh, terror attacks are part and parcel of a big city'," she said in a video posted on Twitter, incorrectly attributing Mr Khan's 2016 article.
"Well, no, they're not. They don't have to be. They never have been in the past, and that's something I never want to hear or see here in Australia from any mayor in any city." 
One Nation has the only policy that protects you from the growing threat of Islamic terror. #Pray4MuslimBan

LINK https://t.co/3fS0zjv6Mg pic.twitter.com/0jv1KLQfRh

— Pauline Hanson (@PaulineHansonOz) March 23, 2017
Senator Hanson took the opportunity to push One Nation's anti-immigration policies and introduced the #Pray4MuslimBan hashtag.
"That is how you solve the problem, put a ban on it and then let's deal with the issues here," she said.
Origin of the Khan quotes
The 2016 Independent article quoted Mr Khan speaking after three bombs exploded in New York City and nearby towns, wounding 29 people.
At the time he said the US attacks had given him a sleepless night as he pondered the dangers faced by major western cities like New York and London.
"Part and parcel of living in a great global city is you have to be prepared for these sorts of things, you have to be vigilant, you have to support the police doing an incredibly hard job, you have to support the security services," he said.
Mr Trump's tweet caused outrage in Britain, with Labour MP Wes Streeting branding him a "disgrace" for exploiting the tragedy.
@DonaldJTrumpJr You use a terrorist attack on our city to attack London's Mayor for your own political gain. You're a disgrace.

— Wes Streeting MP (@wesstreeting) March 22, 2017
Others accused him of wrongly implying that Mr Khan's comments were made after the attack.
Last year, he accused the then-presidential candidate of being "ignorant" about Islam.
Mr Trump responded by challenging the mayor to an IQ test.