As technology improves, is it possible we are being impaired by its progress?
Today, many tasks are automated or outsourced, meaning we rarely learn a skill unless there's money in it for us, while those we already possess lie forgotten on the outer echelons of our capabilities.
• You know you're an Aussie when…
• Can't catch, can't throw – are Australian kids losing their sporting edge?
• Wink wink, nudge nudge: emojis lead to sex

The result? We're a bunch of blundering gits when it comes to driving, parking, spelling, reading, cleaning, cooking and pretty much everything else.
Cue the exponential increase in road rage incidents, spelling mistakes and accidental housefires.
Here are the 17 skills heading for extinction in the 21st century:
Meeting new people
Love and friendship – once found by putting oneself out there at social events – can now be acquired with a Facebook 'poke', friend request or right-swipe of your smartphone. Has Tinder killed romance? Perhaps. Has it destroyed the subtle arts of flirting and small talk? Absolutely.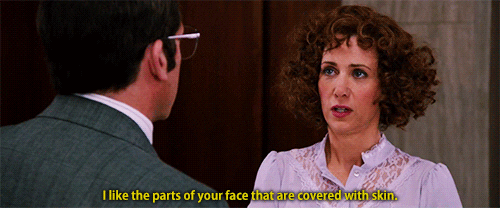 Writing letters
When was the last time you sent snail mail to someone? Admit it – you had to think about where to put the postcode, didn't you? Now confined to the realm of attentive grandmas, letter writing has been replaced by emails, iMessaging, Facebook and Snapchat. Communication is now more concise but far less charming.
Walking
They're called meanderthals – those perilous, thoughtless fools who wander the streets with their eyes glued to a phone screen. Chaos and personal injury ensues. Keep your eyes on the road.
Driving
Cruise control was a revolution but things have come even further since then. Now, smart cars park for you, steer for you and tell you when you're about to run over your pets. The most terrible drivers on the road are set to get a whole lot worse.
Reading a map
With a fully charged phone you are a navigator and explorer up to the standard of Captain Lawrence Oates. Once the phone dies, you're a confused mess who may or may not end up sleeping overnight in their car after getting horrendously lost.
Conversation
Want to ask a friend how they're going? There's an emoji for that. Making a phone call? Send a text instead. Need to set a coffee date? Create a calendar invite, you clingy weirdo.
No exchange is too inappropriate to post online – even the sharing of condolences, which are often publicly posted on the Facebook wall of the deceased.
Understatement
Things are never "satisfactory" or "unsatisfactory" any more. Hyperbole is a permanent fixture in our vocabulary thanks to the competitive, content-heavy internet universe and basic feats are now deemed "epic", "incredible", "mind-blowing" or "awesome". Blame The Lego Movie.
Handwriting
While we have all become tops at typing, the art of handwriting has certainly been lost in the process. Gone are the days where neat notation was fawned over and, along with it, centimetre-perfect cursive and print.
Now all we have is a sea of scribble on office notepads, only decipherable to the writers themselves – or not.
Reading the newspaper
Once a favourite morning pastime, reading the newspaper is a foreign concept to most in 2015. Internet news websites are king and newspaper sales are still in sharp decline, but there is something to be said about picking up a paper and leisurely reading the news of the moment.
General knowledge
Why commit to memory the names of Australian PMs, capital cities of the world or the planet's highest peaks when it's all just a Google search away? We're all Barry Jones's now.
Flying
Planes and their cockpits are becoming so sophisticated that some fear pilots no longer have the necessary emergency skills when systems fail. Mayday, mayday.
Cooking
Thermomixes and new-age ovens will do everything but clean the kitchen sink. That capability is probably in development too though.
Grocery Shopping
The ability to order online from your local Coles and have it delivered to your door certainly takes the sheen off the good old grocery run. Throw in takeaway delivery services like Menulog and EatNow and you no longer have to leave your house to get a good feed.
Photography
F-stops, shutter speeds, 400 ASA … really? Who can be bothered? Instead, point, click, edit and share in one fell swoop on your camera phone without having to wait for the Kodak shop to give you the goods.
The portrait has been replaced by the selfie, Instagram has made everyone a shutterbug and filters can hide a multitude of sins. What are you waiting for?
Household chores
Ironing, vacuuming, washing the car – there's nothing that can't be outsourced or automated these days.
Gardening and mowing – once weekend rituals, are either delegated to the professionals, or rendered unnecessary because we've paved the whole backyard to cut back on our water bills.
Don't even ask us to scrub the saucepan – that's what smart dishwashers are for.
Spelling
It's rilly impotent to prove your a gud speller. Srsly. Autocorrect and internet abbreviations have pretty much destroyed all semblance of sentence construction.
Even if you were once a great speller, you will undoubtedly find yourself questioning your own expertise in the face of a barrage of non-words, acronyms, and freakish hybrid phrases.
Remembering
Unfortunately, the information age means we need to keep track of more passwords, login details, account numbers and meetings than ever before.
Fortunately, a simple "remember this password" will mean you don't have to worry about forgetting them all ever again.
Chuck in calendar invites, automatic reminds and the plethora of scheduling apps and available and your phone and computer are pretty much doing the thinking for you.
Changing a tyre
Once a mark of honour, the daunting task of changing a tyre now consists of one thing: calling for roadside assistance.
If you find someone who can willingly and expertly do it without calling the pros, you should probably propose to them immediately.