Within the first two minutes of the sixth season of The Bachelor, the titular star Nick Cummins had dispensed wisdom to the high priest of wise Osher Gunsberg, been featured in a montage of pashing and let fly with plenty of platitudes which, fingers crossed, set the tone for the rest of the series.
"I'm as nervous as a duck in a doona factory," said Nick, who noted it was "time to strap on the bag of fruit" and meet some chicks: "Holy moses, I hope they like moustaches."
He should have been more worried about whether they would like a younger version of Home and Away's Alf Stewart mixed with Paul Hogan mixed with Arnold Schwarzenegger's body mixed with that friend of your brother who was always firmly in the friend zone.
Nick, 30, is totally delightful. It's just hard to say if he'll make the show's women want to play pool with him rather than play house.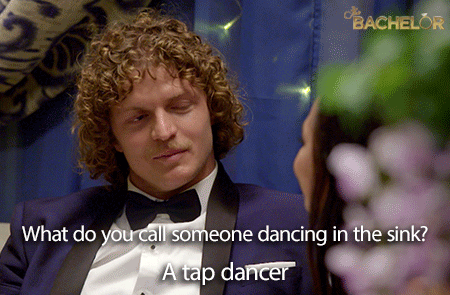 Just like Ten got it seriously right by casting bogan queen Sophie Monk in last season's hugely successful The Bachelorette, they've made a rolled gold choice in the 'Honey Badger'.
Previous bachelors have been either knuckleheads, boring or too polished. Nick, like Monk, is thoughtful under the ockerisms, genuinely likeable and brimming with personality.
He's a reality TV unicorn, a man who appeals to both sexes and will see advertising dollars flooding in for everything from cars to Uber Eats and underwear.
The show's format is well known by now and this season's kick off was no exception: a parade of dolled-up women, some with more charm than others, and a "worldwide Bachelor first" that came packaged in a $2 shop trinket box.
In a worldwide Bachelor first, one Bachelorette will receive a key to The Bach Pad to visit Nick. #TheBachelorAU pic.twitter.com/tzddrg7vTg

— The Bachelor Aus 🌹 (@TheBachelorAU) August 15, 2018
But it's the drama as much as the romance that viewers tune in for, and it showed up well before the first two cocktail party bevs were necked.
Dramatic high point No.1: The Bachelor's dating pool proved as tiny as ever. It's like there are three dozen women in Australia each year to choose from.
Contestant Cat claimed "old mate" fellow contestant Sophie was "very recently" dating her ex and forced a confrontation. Not classy. And weird given the 25-on-one premise of the show.
Then it turned out 23-year-old student Cass has had past interactions with the former Wallaby.
She said they were just in the gym. He said they'd been on a "couple of dates" but the timing was off. The body language said something else.
Prodded, Cass said she'd written Nick's name in her dream diary and the universe was giving her what she wanted. Nick, for once, was speechless although the thought bubble above his head was saying, "Danger, Will Robinson."
Dramatic high point No.2: The entry of Dasha, a Russian personal trainer by way of Adelaide, who hooked her legs around Nick's neck and performed upside down sit-ups, snapping, "Don't drop me."
Just when it looked like she'd won the Bond Girl baddie stakes, she was shaded by a legal secretary called Vanessa Sunshine.
She "wasn't thrilled" when she spied Nick, and flounced off before answering questions to maintain mystique. "I don't think I'm the life of the party. I know I am," said Vanessa Sunshine, locking herself in as the season's villain.
Nick's reaction? "I don't know if I should be running or chasing." Run, cobber, run.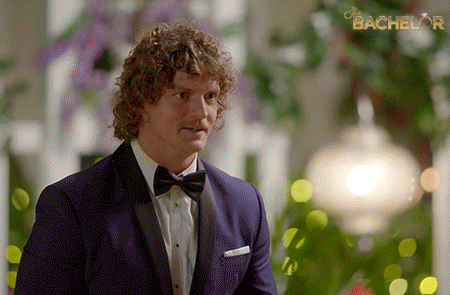 The rest was a blur: bitchy comments, Cayla jumping in the pool and Nick not noticing, Osher noticing though (between doing the girls v roses math).
And it all wrapped up when Nick gave Brooke – who he threw the balls with – the first rose and the key to the Bach pad, praising her "beautiful energy".
Cass nearly lost it but survived. Vanessa Sunshine made the cut, because the villain must by law survive at least five rose ceremonies.
Three women who weren't seen at all until the very final scene were sent home without their departure even being shown. And The Bachelor magic – even though we understand all the tricks by now – is back.
Oh dear.
A cannonball.

In the shallow end.

And Nick wasn't watching.

I just died inside. #TheBachelorAu pic.twitter.com/NlKzfLIvQ9

— Osher Günsberg (@oshergunsberg) August 15, 2018