Q&A was off to a flying start on Monday evening, with the same-sex marriage plebiscite sparking fierce debate between a colourful panel including comedian Magda Szubanski, singer Jimmy Barnes and Deputy Nationals Leader Fiona Nash.
The panel discussed the issue of same-sex equality at length; with the discussion getting heated at times.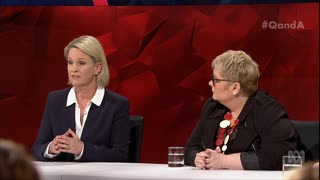 Ms Szubanski, an acclaimed performer of Kath and Kim fame, told the audience a plebiscite was a colossal waste of money and described being suicidal before coming out as a lesbian.
The actress and comedian skewered Ms Nash with a very personal (and hypothetical) question.
"If I was your daughter, and I'm being gay, would you think that I should have the right to be married?" Ms Szubanski demanded.
"My view is still the traditional view of marriage," Ms Nash responded.
"I completely respect your view and your desire to see that as equality …"
"But you won't give me my rights. Thanks a lot," Ms Szubanski cut in, to applause.
Watch the exchange here:
Ms Nash was largely unsuccessful in her attempts to placate both Mr Barnes and Ms Szubanski when it came to the value of what Ms Szubanski described as "an expensive opinion poll".
SHORTER FIONA NASH: I love my children, but if one of them was gay and wanted to get married it can go and get stuffed. #qanda

— Dave Donovan (@davrosz) September 19, 2016
Outspoken independent Senator Jacqui Lambie suggested the government "put power back into the people's hands" by putting three questions to Australians in the plebiscite, rather than just the one.
Euthanasia and reconciliation were both floated by Senator Lambie as questions that could earn the government more "bang for its buck".
Pauline Hanson and Lambie the 'peacemaker'
On the topic of Pauline Hanson's inflammatory maiden Senate speech last week, Senator Lambie said she intended to act as a "peacemaker" within the divided upper house.
"If what somebody says brings unrest out on the streets – that's when I start having an issue," she said of the One Nation senator's comments about Muslims. 
"I think the thing about extremism is, extremism in any form is dangerous," said Mr Barnes, better known for his rock ballads than political commentary.
"Extreme Christianity, extreme Muslims, extreme anything is dangerous."
He described receiving death threats after telling anti-Islam group Reclaim Australia not to use his iconic song Khe Sahn during their often-violent rallies.
If Jimmy Barnes gets hate mail for asking people not to use his songs, what will a plebiscite bring? #qanda

— Jessica Wheelock (@Jessicawheelock) September 19, 2016
Barnes discusses alcoholism
Rocker Barnes was probed about his journey to becoming sober after years of alcoholism by one audience member, who asked if recovery was possible for everyone.
"I would get obliterated and go crazy. And the more I did, the more records I sold," he lamented.
"It was the longest, slowest suicide attempt in history," he said, admitting at one time he was downing three bottles of vodka every day.
Host Tony Jones asked whether Mr Barnes would have been as successful without the booze.
"but without the booze and drugs, would Jimmy Barnes have been Jimmy Barnes?" and just like that TJ glorifies alcoholism #qanda

— Jobson Growthe (@Nicola_Dugar) September 19, 2016
"Unfortunately I didn't know how to do that," he replied.
Senator Lambie, who has publicly aired her son's struggles with ice, said the government needed to get serious about directing more funding into drug and alcohol rehabilitation centres.