"I don't feel like putting the Christmas tree up this year," I said to my sons last week.
I was having a Grinch moment. We have no little kids in our tiny family, there is no reason to go all Martha Stewart.
It's a miracle if I even get a turkey in the oven on Christmas Day. Would a bunch of poinsettia shoved in a vase do the trick?
• Why activewear is okay even when you're not exercising
• What on earth is a gilet? Fashion terms explained
• Kirstie Clements on Australia's most stylish people

I was half hoping my sons would say "No, no Mum, don't cancel the tree tradition, we love the ornaments you've been collecting and pulling out every year to make us feel happy and nostalgic" but instead Joe said: "Yeah, cool. I'm sick of those decorations anyway".
I am not naturally crafty, and as Hoarders has taught me, collecting Christmas decorations will swiftly become a deadly obsession, leading to chronic rat infestation and eventual eviction.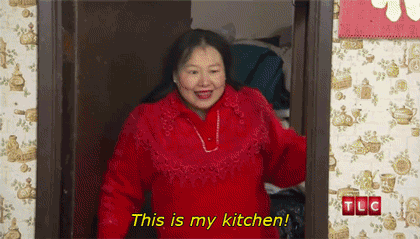 The worse for wear artificial tree from my childhood had been tossed away long ago, the last ornament smashed. We went through a long phase of buying a real Xmas tree, but I soon tired of dragging them home to see them slumped in the corner, shedding needles and constantly tipping over.
I finally bought a tall and very presentable green artificial tree at top price from David Jones, and dutifully bought new decorations every year, but my heart has never really been in it.
I have many friends who absolutely adore Christmas but that is generally because they are brilliant at both decorating and cooking, admirable skills I do not possess. Knock yourself out with the $500 driftwood wreath and the giant gold wire reindeers to place on the festive table runner but I'm not having bar of it.
The people who would be most likely to change my mind on this though are the Americans. They do it with aplomb. Christmas in New York is heaven.
The wondrous Bergdorf Goodman department store turns over almost an entire floor each festive season to the most jaw dropping and expensive decorations. One year I walked in to see a towering black tree, covered in Georgia O'Keefe inspired ornaments included bleached dog skulls (fake) birds, bones and feathers.
I bought a few pieces, including a large and realistic stuffed and feathered white owl to put on top of our tree, which my mother thought macabre and odd. I also bought a large silk tassel that was scented with frankincense, which I have to admit also lacked context.
So in my spirit of 'bah, humbug', I walked past a Pottery Barn store and suddenly noticed the newly dressed Christmas trees. It was quintessential American fabulousness, the trees so laden with ornaments per square centimetre that you couldn't see the branch.
One was dedicated to beautiful, delicate sea creatures – glass jellyfish, clams, turtles, fish, lobsters, shells and starfish. There was another in pure silver, all European and snowy, sprinkled liberally with starburst, tiny Victorian houses, icicles, crystals and miniature silver photo frames.
Hark, the red and white themed display of splendidness, full of candy canes, gingham stars, knitted animals in jaunty scarfs, bamboo reindeer, and various examples of random cuteness including golf clubs tennis rackets and Eiffel towers.
That's what I needed to do, clearly, to regain my Christmas spirit just like James Stewart in It's A Wonderful Life. New decorations.
Similar to a haircut or a new pair of Saint Laurent shoes, this would change my life completely, bring the family closer and re-ignite my marriage. Phooey to those old, tired trinkets that had held us back and ruined Christmas.
I bought $200 worth of Made In China pieces of joy, rushed home and re-trimmed the tree.
"So," I said triumphantly, "What do you think everyone?"
"Where's the owl?" was the answer.