Host Chris Rock has used his opening speech at the 2016 Academy Awards to address the Oscars' racism controversy at length, earning loud laughs and some uncomfortable silences.
"Why are we protesting, that is the big question," Rock asked the crowd of the uproar over the lack of black nominees this year.
• THE RED CARPET
• THE WINNERS
• LEO DICAPRIO'S BIG MOMENT

"Why this Oscars, you know? It is the 88th Annual Academy Awards. It is the 88th Annual Academy Awards. Which means this whole no-black nominees thing has happened at least 71 other times.
"You got to figure that it happened in the 50s, in the 60s. I'm sure there was no black nominees in some of those years, say '62 or '63 and black people did not protest.
"Why? Because we had real things to protest. You know. Too busy being raped and lynched to care about who won best Cinematography. You know, when your grandmother is swinging from a tree, it is really hard to care about best documentary of foreign short."
While that bit scored a guilty laugh from the crowd, there was more muted applause when Rock declared Hollywood racist.
"Is Hollywood racist? You're damn right – Hollywood is racist," Rock, 51, announced.
"You've grown accustomed to it. Hollywood is sorority racist. It's like 'we like you Rhonda, but you're not a kappa'."
He didn't stop there, roasting Jada Pinkett-Smith for her highly publicised decision to boycott the show.
"Jada [Pinkett Smith] boycotting the Oscars is like me boycotting Rihanna's panties… I wasn't invited," Rock joked.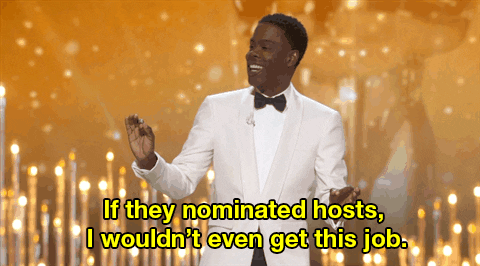 Rock's opening monologue was followed by a series of skits featuring black actors recreating scenes from the Best Picture nominees.
Whoopi Goldberg parodied Jennifer Lawrence's role as mop magnate Joy Mangano in Joy, while Tracy Morgan appeared as "the Danish girl", wearing a dress and munching on a pastry.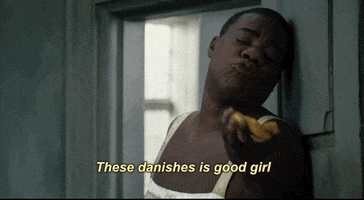 Outside the Compton movie theatre
One of the best skits was a pre-recorded bit in which Rock visited a cinema in the predominantly black Los Angeles neighbourhood of Compton to ask African-Americans about their favourite films of the year.
"Were you upset when you heard there were no black nominees this year?" Rock asked one man.
"It was terrible," the man responded.
"I mean like smack a white man bad?" Rock retorted.
"Almost. You still go to jail in LA for smacking a white man," the man said.
"You get three years for a hard look," Rock joked to much laughter, referencing America's ongoing police brutality problem and the #BlackLivesMatter movement.
The skit revealed the true disconnect between the films that get nominated and the films people actually watch, with many of the individuals interviewed barely recognising the names of some of the nominees.
One woman, after being asked if she enjoyed Trumbo, Bridge of Spies or The Big Short the most, was incredulous.
"Where are you getting these movies from? You are making them up, you are messing with me, right?" she asked.
However, all of the interviewees recognised box office hit Straight Outta Compton, which was noticeably absent from nominee lists.
.@ChrisRock goes to Compton to talk movies. #Oscarshttps://t.co/Tj8sEaVbDb

— The Academy (@TheAcademy) February 29, 2016
Ali G weighs in
Sacha Baron Cohen is the original master of outrage so it made sense his appearance presenting at the Oscars would be in character as his iconic persona, Ali G.
Dressed in a tux with Ali G's signature beanie and orange-tinted sunglasses, Cohen adopted the character's faux British-Jamaican accent to add to the #OscarsSoWhite debate.
"I know what you was thinkin' when I walked on: here comes yet another token black presenter," Cohen joked alongside fellow presenter Olivia Wilde.
"But it ain't just me bread bin that brethren that has been overlooked. How come there is no Oscar for them very hard-working little yellow people with tiny dongs? You know, the minions!
"But I is here, representing all them who has been overlooked. Will Smith, Idris Elbow [sic] and of course the amazing black bloke from Star Wars, Darth Vader. This is for you."