Actress Jennifer Garner's stunned expression at the Academy Awards on Sunday (US time) has prompted hundreds of queries about her wellbeing and speculation as to what caused her sudden mood change.
Garner's expression was captured by cameras during the global broadcast of the 90th annual Oscars and immediately sent social media into a state of fascination and confusion.
Footage showed the 45-year-old mother of two casually applauding before being seized by some unforeseen concern, furrowing her eyebrows and opening her mouth into an extremely worried look and abruptly halting her clapping.
What realization did Jennifer Garner just come to? pic.twitter.com/pWtycEDEVs

— bobby finger (@bobbyfinger) March 5, 2018
The clip was shared on Twitter by Jezebel writer Bobby Finger, who asked his followers: "What realisation did Jennifer Garner just come to?"
The tweet quickly attracted thousands of retweets and hundreds of hilarious guesses, ranging from the banal to the bizarrely personal.
"She left her [hair] straightener on," was one suggestion.
"She left the stove on," was another, while a whole host of unmentionable bodily functions were also raised.
I wonder if Jennifer Garner knows that she's a meme yet #oscars

— Reagan Pierce (@reagandpierce) March 5, 2018
But many of the guesses centred on Garner's 12-year marriage to fellow actor Ben Affleck.
"If he can't save this marriage how can he save Gotham?" one Twitter user joked of Garner's epiphany about Affleck, who plays Batman in the recent franchise reboot.
"Thank God I left him," was actor Stephen Ford's best guess for her sudden realisation.
Garner also earned comparisons to US basketball player Alonzo Mourning, who was captured court-side at a game in the mid-2000s appearing to come to some sort of conclusion, sparking hundreds of hilarious memes.
She's the new Alonzo Mourning. pic.twitter.com/8mjgvwB66b

— Jessica DeLeon (@JessicaDeLeonTX) March 5, 2018
As last year's Oscars the viral moment of the night was Nicole Kidman clapping in a bizarre manner, which she later explained was to protect her expensive rings.
Nicole Kidman with the most avant-garde applause of the night https://t.co/ZLuSDf8IVd pic.twitter.com/8dw4OYrCnR

— The Independent (@Independent) February 27, 2017
At the 2015 Golden Globes, model Chrissy Teigen became an instant internet sensation with her "ugly cry face", thanks to her emotional reaction to husband John Legend winning Best Original Song.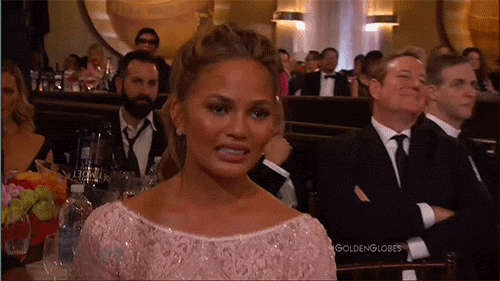 A prolific tweeter, Teigen was quick to get in on the joke, writing: "It's been five minutes and I'm a meme … Sorry I don't practice my cry face okay."
She and Legend then hilariously recreated the moment on Instagram, fetching over 120,000 likes.