You know it's going to be a good awards show when it opens with a grumpy, beer-toting Ricky Gervais insulting the entire room with a single sentence.
• Gallery: 2016 Golden Globes red carpet
• Sylvester Stallone is back – and he's spectacular
• Sean Penn interviews 'El Chapo'
"Shut up you disgusting, pill-popping, sexual deviant scum," the British comedian declared as he began his opening monologue, eliciting hysterical laughter from everyone in the room.
Gervais continued on to say that while the room contained a lot of extremely talented people, "some of you just married well".
"You know who you are. We all do," he quipped.
From that point, the 54-year-old went on to systematically and expertly insult, offend and satirise everyone from film stars to politicians. Poor Matt Damon was, as always, a running joke.
The best (or worst, depending on your perspective) Gervais jokes
• "I'm going to do this monologue and then go into hiding. Not even Sean Penn will find me."
• "Of course women should be paid the same as men … I'd like to say I'm getting paid exactly the same as Tina [Fey] and Amy [Poehler] did last year for hosting. I know there's two of them but it's not my fault they wanted to share the money."
• "Listen if you do win tonight, remember no one cares about that award as much as you do. Don't get emotional, it's embarrassing. That award is – no offence – worthless."
• "I've got three Golden Globes. One's a door stop, one I use to hit burglars with and one I keep by the bed to … doesn't matter what I do with it."
• "The Golden Globes doesn't have an In Memoriam section to get you all depressed – instead we have the president of the Hollywood Foreign Press Association say a few words."
• "Our next presenter is the star of the hilarious comedy The Martian. He's also the only person who Ben Affleck hasn't been unfaithful to. Please welcome, Matt Damon."
• When introducing Honduran actress America Ferrera and Mexican actress Eva Longoria: "They're two people your future president Donald Trump can't wait to deport."
• "When Brad and Angelina see our next two adorable little presenters they're gonna want to adopt them. Please welcome Kevin Hart and Ken Jeong."
• Introducing Mel Gibson: "I want to say something nice about Mel before he comes out … I'd rather have a drink with him in his hotel room tonight than with Bill Cosby."
You can watch Ricky's opening monologue below:
The other highlights and lowlights
Channing Tatum and Jonah Hill's bizarre bear skit
Leonardo DiCaprio's alleged "bear rape" scene in The Revenant was a hot topic in Hollywood for a moment there, until everyone saw the film and realised it didn't happen.
However, Jonah Hill and Channing Tatum clearly want to keep the joke alive.
While the duo were presenting an award, Hill hit the stage wearing a cheap bear costume on his head and posed as the bear from the movie.
"I've notoriously done zero press for the film," he said. "I'm a Daniel Day [Lewis] or Tom Hardy type of actor who doesn't like my face out there very much."
The camera cut to Jane Fonda, who looked seriously unimpressed.
America Ferrera and Eva Longoria deliver the sass
The actresses (Ferrera has a Honduran background and Longoria's parents are Mexican) are sick of being lumped in with other actresses who look "foreign" so they cleared it up, once and for all.
Arriving on stage to present an award, the two women delivered the following lines completely in a hilariously deadpan manner – kicking off a campaign for them to host next year's awards.
"Hi, I'm Eva Longoria, not Eva Mendes," Longoria said.
"I'm America Ferrera, not Gina Rodriguez," Ferrera said.
"And neither of us are Rosario Dawson," Longoria quipped.
"Well said, Salma," Ferrera retorted, before Longoria concluded with: "Thank you, Charo."
Amy Schumer and Jennifer Lawrence's best friend moment
The new besties hit the stage to present an award and immediately sent the internet wild.
"I'm JLaw," Lawrence opened.
"And I'm ASchu," Schumer quipped. After Lawrence told her she couldn't just come up with her own nickname and had to instead go by what others called her, Schumer broke all kinds of rules when she joked: "Usually they just call me a c***."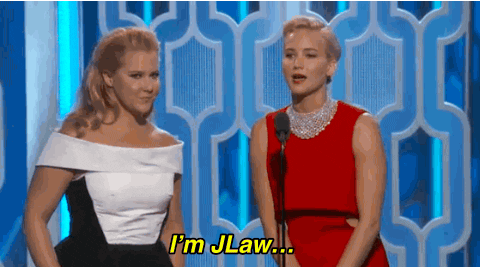 Mel Gibson and Ricky Gervais' awkward reunion
After controversially joking about Gibson's drinking problem at the 2010 Golden Globes, Gervais was forced to come face to face with the actor again when Gibson presented an award this year.
"I wasn't judging him but now I find myself in the awkward position of having to introduce him again," Gervais said.
"I still feel a bit bad for it, Mel has forgotten all about it apparently – thats what drinking does," Gervais joked.
"I want to say something nice about Mel before he comes out – I'd rather have a drink with him in his hotel room tonight than with Bill Cosby."
A less-than-impressed Gibson then hit the stage and retorted: "I love seeing Ricky once every three years because it reminds me to get a colonoscopy."
"You don't need to leave your drink here, I can put you to sleep another way, son."
Leonardo DiCaprio's encounter with Lady Gaga
The actor – who later won the Best Actor award for The Revenant – looked like a naughty kid who had just been caught doing something bad when the pop diva shoved past him.
We're pretty sure Lady Gaga had no clue who she was pushing aside.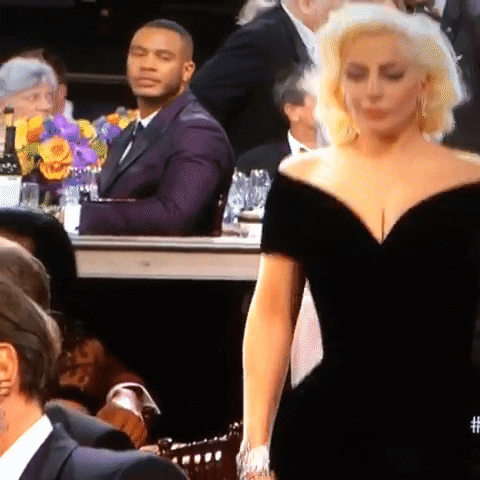 Taraji P. Henson's feisty acceptance speech
Those who try to cut Cookie off, be warned.
Henson, who won a Best Actress trophy for her role as the sassy matriarch on Empire, was outraged when the show's producers tried to play her off the stage during her acceptance speech.
"Please wrap? Wait a minute, I've been waiting 20 years for this! You gon' wait," she said, scoring a big cheer from the crowd.
She also delivered cookies to the audience.
Leonardo DiCaprio's big win
He's been waiting for an Oscar for years and it appears the big mount may finally be on his doorstep.
When the 41-year-old won the Best Actor in a Drama award for The Revenant, the applause was deafening. His joyous little smile was pretty cute too.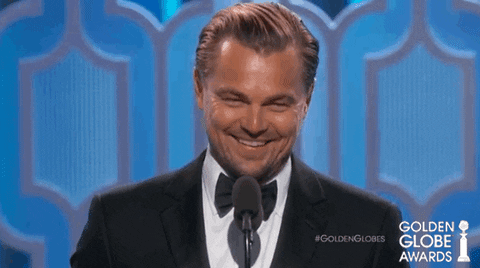 The award winners
Best Supporting Actress in a Motion Picture: Kate Winslet for Steve Jobs
Best Supporting Actress in a TV Series, Mini-Series or TV Movie: Maura Tierney for The Affair
Best Actress in a TV Series – Comedy or Musical: Rachel Bloom for Crazy Ex-Girlfriend
Best TV series – Comedy: Mozart in the Jungle
Best Limited Series or TV Movie: Wolf Hall
Best Actor in a Limited TV Series or Movie: Oscar Isaac in Show Me a Hero
Best Supporting Actor in a TV Series, Mini-Series or TV Movie: Christian Slater for Mr Robot
Original Score – Motion Picture: Ennio Morricone for The Hateful Eight
Best Actor in a TV Series – Drama: Jon Hamm for Mad Men
Best Actor in a Movie – Comedy: Matt Damon for The Martian
Best Animated Film: Inside Out
Best Supporting Actor in a Motion Picture: Sylvester Stallone for Creed
Best Screenplay – Motion Picture: Aaron Sorkin for Steve Jobs
Best Actor in a TV Series – Comedy: Gael Garcia Benal for Mozart in the Jungle
Best Foreign Language Film: Son of Saul (Hungary)
Best Actress in a Limited TV Series or Movie: Lady Gaga in American Horror Story: Hotel
Best Original Song: Writing's on the Wall by Sam Smith and Jimmy Napes for Spectre
Best TV Series – Drama: Mr Robot
Cecil Be. DeMille Awards: Denzel Washington
Best Director of a Motion Picture: Alejandro G Inarritu for The Revenant
Best Actress in a TV Series – Drama: Taraji P. Henson for Empire
Best Actress in a Motion Picture – Comedy: Jennifer Lawrence for Joy
Best Motion Picture – Comedy: The Martian
Best Actress in a Motion Picture – Drama: Brie Larson for Room
Best Actor in a Motion Picture – Drama: Leonardo DiCaprio for The Revenant
Best Motion Picture – Drama: The Revenant