Han Solo's Millennium Falcon can make the Kessel Run in less than twelve parsecs. *
Unfortunately, Harrison Ford's World War II era PT-22 fighter plane can make no such claim to fame.
· Actor Harrison Ford injured in plane crash
· Eight awesome things about the Star Wars teaser
· Our coolest winter films – what's your favourite?
· The Sound of Music's 50th anniversary: 10 essential film facts
Without a wookie on board to extinguish spot fires, the Star Wars and Indiana Jones star found himself unable to keep his vintage aircraft in the air when the engine stalled after take-off less than two minutes after departing from the Santa Monica Municipal Airport at 2.20pm local time on Thursday (Friday morning AEDST).
Ford, 72, reported engine failure from the cockpit of the two-seater fighter plane, which he was flying solo, and attempted to return to the airport.
But when the veteran aviator realised he wasn't going to make it, amid a sea of up-market Santa Monica houses, he managed to guide the plane to ground on the only strip of unoccupied land in sight – the Penmar Golf Course – where it skidded to a halt on the eighth hole.
Just a stone's throw away was Wallgrove Avenue Elementary School. Even closer, Penmar Recreation Centre, where young people play baseball, basketball and other sports.
The situation had all the ingredients of a catastrophic aviation disaster.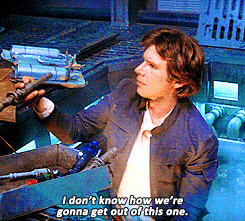 One witness to the crash, who was golfing at the time, told TMZ she heard the engine splutter before the plane did a "nose dive straight onto the 8th hole tee box"
"I was one of the first people to run from the hole toward the plane. Four to five men pulled the pilot out of the plane," the witness said.
"A swath of his skin was missing. There was blood dripping down his face."
LA fire spokesman Erik Scott said it was rare to see a single engine light plane crash that did not result in a fatality and praised the pilot for avoiding casualties.
Ford's son Ben tweeted out news of his dad's health not long after the crash, praising his fearlessness.
"At the hospital. Dad is ok. Battered, but ok! He is every bit the man you would think he is. He is an incredibly strong man," Ben Ford's tweet read.
Not the first time
If there was ever a moment when Harrison's real life action hero credentials were in question, now is the time to note his mettle.
Ford, who has been an amateur light aircraft and helicopter pilot since the 1960s, survived a bad helicopter crash unscathed in 1999 in Santa Clara.
He was also forced to make an emergency landing in a small, six-passenger Beechcraft Bonanza in 2000. Again, he was unhurt.
Unfortunately, it was the flying machine that made him famous – the Millennium Falcon – that proved his undoing in 2014, when he broke his leg after space ship's door fell on him during filming for the upcoming Star Wars Episode VII.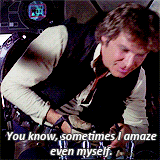 The action film legend has been the star of a number of gritty adventure roles, always cast as the hero, so, in a way, his selfless actions this week are an example of life imitating art.
He is soon to return to the screen in two of the blockbusters that helped him make his name, first in Star Wars Episode VII, where he will reprise his role of Han Solo, and secondly in the remake of the 1982 cult classic Blade Runner.
To celebrate the bravery of our favourite movie hero, here's The New Daily's five most courageous Ford roles:
5. President James Marshall – Air Force One (1997)
An apt movie to celebrate the actor's back catalogue, given recent events. Ford embodied everything an American president should be in Air Force One; brave, smart and strong. He single handedly saves his family and all the passengers on board Air Force One after it is hijacked by Russian terrorists. Ford also earned himself an MTV Best Fight nomination for the final action scene with Gary Oldman.
4. Dr. Richard Kimble –  The Fugitive (1993)
Four years after Indiana Jones and The Last Crusade, Ford became Dr. Richard Kimble in The Fugitive, the escaped prisoner on the run to clear his name after being charged with brutally murdering his wife.  A little bit older, wiser and less cavalier than his earlier action roles, Ford was equal parts ethical doctor, loving husband and gutsy escape artist in this 1990s classic.
3. Rick Deckard  – Blade Runner (1982)
Already a household name thanks to the movie franchises Stars Wars and Indiana Jones, Ford chose the noir sci-fi flick Blade Runner to show he had could handle more serious acting roles. His character Rick Deckard was the strong silent type – a break from his previous leading roles – but continued Ford's run of tough guys turned nice.
2. Han Solo – Star Wars IV, V, VI (1977, 1980, 1983)
Introduced in the original Star Wars: A New Hope as a rogue pilot on the run from the law, Ford's Han Solo soon stole the show from Luke Skywalker, while stealing the heart of Princess Leia. We gasped at his bravery when he was frozen in carbonite in The Empire Strikes Back and cheered when he saved the day in The Return of the Jedi. Quite simply, there is no one like Han.
1. Indiana Jones – Indiana Jones trilogy (1981, 1984, 1989)
Ford's first one man show, as Indiana Jones he was as sassy and gallant as he was reckless; never giving up in the face of certain defeat. Whether it was running from a giant boulder in Raiders of the Lost Ark, almost having his heart ripped out in The Temple of Doom or when he miraculously survived a cliff fall in The Last Crusade, Indy is always a legend.
* TND notes parsecs are a measure of distance, not time. Star Wars aficionados need not comment.